I did 12 miles at Umstead yesterday. It took me almost four hours to do those 12 miles, thanks to hip pain that manifested itself halfway through my out-and-back run.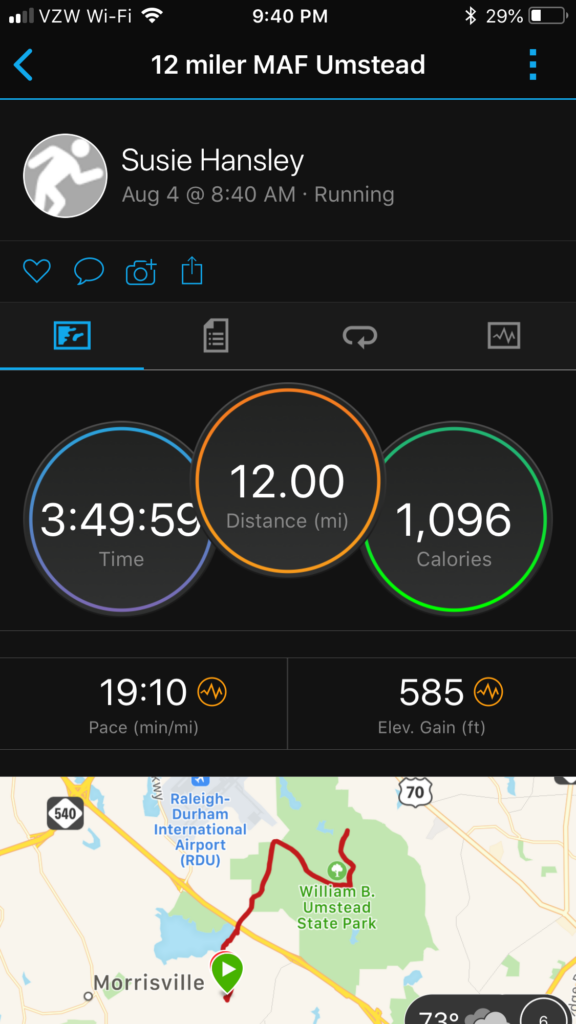 The worst part wasn't the physical pain; it was the mental calisthenics my brain put me through as I tried to deal with the disappointment of not being where I want to be. During that long walk of shame, I had to contend with two competing truths: while you can do anything you set your mind to, sometimes it's not going to happen the way you planned it. Your body can be a limiting factor, and you have to contend with that reality.
This 12-miler is part of my training for the Richmond Marathon in November. I signed up for it to start preparing for my bucket list race: the Umstead Trail Marathon, which is held at William B. Umstead State Park in the Triangle area of North Carolina. A trail race sponsored by my running club, Carolina Godiva Track Club, the Umstead Marathon has a cut-off time of 6 hours (or a 13:42/minute mile pace). One would need to be able to run a road marathon in 5 hours at most (an 11:42 pace) to complete the Umstead before the cut off, since trail running is slower than road running.
My last marathon was the Nike Women's Marathon in San Francisco in November 2009. I ran it as part of Team in Training to raise money for the Leukemia and Lymphoma Society. (That race no longer exists, but here's someone's blog post about it from the last time it was run in 2013). My time was 5:59:02, so to run Umstead in under 6 hours, I have to be able to run a road marathon an hour faster than I did nine years ago.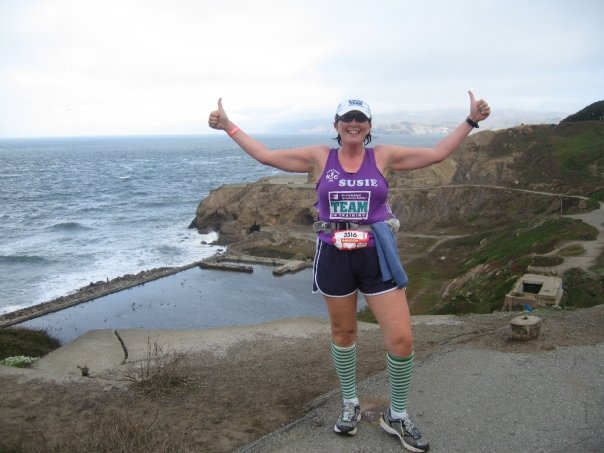 I set a goal for myself: since I did Nike for my 40th, I would do Umstead for my 50th. When I set this goal in February 2017, I was 40 lbs heavier than when I'd done Nike and a lot slower. But it seemed a reasonable goal: since I turn 50 in August of 2019 and would do Umstead Marathon in March 2020, I'd have three years to lose the extra weight, build up to longer races, do trail running, and get faster. I was confident I could do it.
I started off well. Over the course of 2017, I trained for and ran two half marathons in October (Hillsborough Half, which I'm doing again this year, and Bull City Race Fest). My times were not great (3:01 and 3:04, respectively), but I was happy to be going the distance and finishing strong.
Feeling good about my road running, I signed up for a bunch of trail races for winter 2017-2018 (the Tough as Trails series from Bull City Running). I did the first of the trail races, the six-mile Eno River Run, and had a great time; I even managed 16-minute miles, which was a good start toward my goals. At that point, I thought I was ready to sign up for a full marathon for the following fall. I picked Richmond because I'd heard great things about it and wanted to use it as an excuse to visit Richmond.
Then injury struck: knee bursitis. Ironically, it wasn't caused by any of the running. It was me jumping up and down on a hard concrete floor during a boot camp class. The running then aggravated it. The bursitis lasted all winter, but I managed to complete (wearing knee braces and mostly walking) the other three races that were part of the Tough as Trails Series: the 10 mile Race Across Durham, the Uhwarrie 8-miler, and the Mountains-to-Sea 12-miler, where I finished dead last. (Yes, dead last finish trumps did not finish or did not start. But still – I've never finished dead last in a race before, and it was a little humiliating to realize that the race directors called Bill when I hadn't made it to the end by the time they expected me to finish.)
So here I am, starting over post-bursitis, with the Hillsborough Half scheduled for October and the Richmond full for November. I've been doing my training runs (2 short runs during the week and one long run on Sundays). The schedule I'm following goes up and then down every weekend so you rest each weekend a bit following your increase. I started with 6 miles, dropped to an hour, up to 8, down to an hour, up to 10, down to an hour, and then did 12 yesterday.
During that long slow gimpy walk to the car, I was thinking a lot about my plan. What had gone wrong? I should have been able to do this, right? I was doing all the right things and working my plan. So why was it that since my 8-mile long run, things started to fall apart? On the 8-miler, I felt gimpy at mile 7, but still finished. Then two weeks ago, for the 10-miler, same thing happened: the hip started to hurt around mile 7. This hip pain at mile 7 wasn't new, then. I should have paid attention, but I thought that if I followed the plan, it would all be ok.
I like to believe that I can think my way out of anything and achieve anything I set my mind to, but sadly, reality got in the way. My body obviously has a mind of its own, and its little mind (which appears to be angrily and painfully residing in my right hip) apparently trumps my frontal cortex. I have to face it: my body is not ready for a marathon. And it doesn't matter why that's the case. It's just not ready.
I'm thus going to drop from the full to the half for Richmond, and will still do the Hillsborough Half. I haven't given up on my dream to complete the Umstead Marathon. But at this point, I'm not setting a date. I'm meeting my body where it is – going to PT and massage therapy to figure out the hip issue and train safely for a distance that I know I can handle. If for some reason I can't work out the issues with the hip to do the halfs this fall, I will drop them, but at this point, I am planning on doing them and will keep doing the training.
But I haven't given up on doing a marathon during my 50th year, even if it's not Umstead. Richmond Marathon 2019, anyone? 🙂